Click Image to View Larger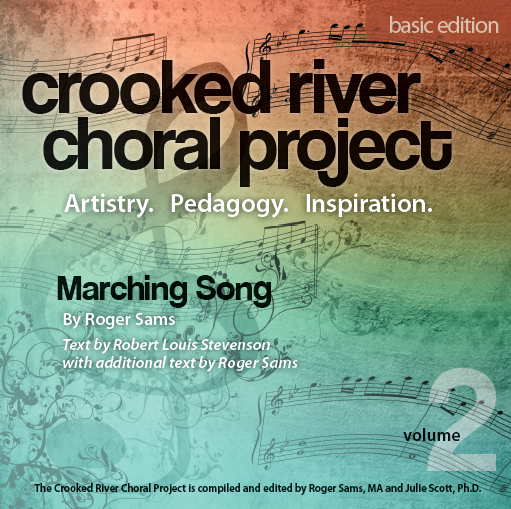 Crooked River Choral Project,
Volume 2
"Marching Song"

Item #:
CRCP2


Price:

$39.95

$25.00
"Marching Song" is the second installment in the Robert Louis Stevenson Song Cycle, by Roger Sams. This lively three-part treble arrangement is both fun to sing and loaded with clear teaching opportunities. The melody for the verses is pentatonic, with an emphasis on Low Sol and Low La (below the Do tonal center). The chorus offers three mock instrument parts, each with their own melodic identities. Put them all together and you've got young singers singing in three- part harmony with joy and ease.
The Crooked River Choral Project, compiled and edited by Roger Sams M.A. and Julie Scott Ph.D., is a collection of artful choral music composed specifically with music teaching and learning in mind. Our selections are first and foremost beautiful pieces of music promoting multi-cultural awareness and community. They are rooted in solid pedagogical thinking, providing music educators with rich teaching opportunities through quality literature. This series offers music with lyrics that inspire the human spirit, nurturing the best in musicians of all levels. Each title includes a music CD and CD-Rom with reproducible score sheets.
Volume 2 Audio CD includes:
1. Children's Chorus: Full Score
2. Solo Voice: Melody and harmony parts with piano accompaniment
3. Solo Voice: Flute line in chorus with piano accompaniment
4. Solo Voice: Cymbal line in chorus with piano accompaniment
5. Piano Accompaniment Only
Volume 2 CD- Rom includes:
1. Three-Part Treble Full Score (PDF)
2. Three-Part Treble Vocal Score (PDF)
3. Piano Score (PDF)Sale price limited to quantity on hand.