Spring Workshops 2021
By: Margaret Swain - 11/24/2020

Here is a list of professional development workshops for teachers that will take place in the spring of 2021. Click on each link for more information on these great educational opportunities. We will be adding even more events to this list soon!January 5th-February 9th, 2021
San Francisco International Orff Course featuring James Harding
Elemental Music and the Moving Picture
Info. at www.sforff.orgJanuary 23rd, 2021
Idaho Orff-Schulwerk Association
Annual Chapter Share
Birch Elementary School - Nampa, ID
Info. at www.idahoorff.orgJanuary 24th, 2021
San Francisco International Orff Course featuring Christa Coogan
The GŁnther School: Laying the Foundation of Orff-Schulwerk
Info. at www.sforff.orgJanuary 30th, 2021
Evergreen Orff Chapter
Virtual Chapter Sharing
Info. at www.evergreenorffchapter.comFebruary 20th, 2021
Idaho Orff-Schulwerk Association featuring Otto Gross
Birch Elementary School - Nampa, ID
Info. at www.idahoorff.orgFebruary 27th, 2021
Inland Empire Orff featuring Matthew Strensrud
"Playful Yet Effortless: Using the Schulwerk to Enhance Creativity
Adams Elementary School - Spokane Valley, WA
Info. at www.inlandempireorff.orgFebruary 27th, 2021
Northern California Orff-Schulwerk Association
featuring Kofi Gbolonyo
Orff Afrique Online: West African Music, Dance and Games in Your Home
Presented via Zoom
Info. at www.ncaosa.org March 13th, 2021
Treasure State Orff Chapter featuring Lisa Sullivan
Info. at www.treasurestateorff.org March 20th, 2021
Evergreen Orff Chapter featuring Giovanna Davila
Little Cedars Elementary School - Snohomish, WA
Info. at www.evergreenorffchapter.comApril 17th, 2021
Evergreen Orff Chapter featuring Natasha Thurmon
Pacific Lutheran University - Parkland, WA
Info. at www.evergreenorffchapter.comApril 17th, 2021
Northern California Orff-Schulwerk Association
featuring EstÍv"o Marques
Mirabol'ncias: Brazilian Music Games
Presented via Zoom
Info. at www.ncaosa.orgMay 13th, 2021
Inland Empire Orff featuring Anita Edwards
Regal Elementary School - Spokane, WA
Info. at www.inlandempireorff.org

---
First Steps in Music, Revised
By: Margaret Swain - 8/27/2020

GIA Music has recently released a revised edition of John Feierabend's popular First Steps in Music for Preschool and Beyond curriculum. Here's what you need to know if you already own these materials, or if you are interested in purchasing them for the first time.Regarding the new materials GIA Music writes, "Over the past year, a committee formed by the Feierabend Association for Music Education (FAME) developed a set of standards for evaluating repertoire associated with the curriculum. With their guidance, we have removed several songs deemed to be harmful, derogatory, or disrespectful in regard to their histories or context. We have also added a number of new high-quality songs and rhymes from a variety of world cultures."The following items from the First Steps in Music for Preschool and Beyond curriculum are being revised: First Steps in Music for Preschool and Beyond: the CurriculumThe Book of Beginning Circle Games
The Book of Call and Response
The Book of Children's Songtales
The Book of Echo Songs
The Book of Fingerplays and Action Songs
The Book of Songs and Rhymes with Beat MotionsOld Joe Clark CD
Had a Little Rooster CD
There's a Hole in the Bucket CD
The following items will remain the same:Keeping the Beat CD
The Book of Movement Exploration
The Book of Pitch ExplorationFor those who already own these materials GIA is providing a supplement that lists the songs that have removed from the curriculum, as well as printed music for the materials that have been added. Download the official First Steps in Music for Preschool and Beyond supplement HERE.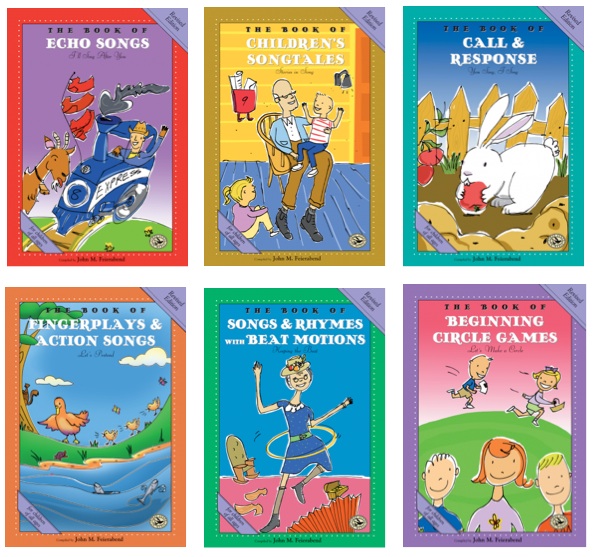 Margaret Swain

I enjoy working to connect teachers to quality books and instruments for music and dance education. I hope you find my blog useful and interesting.

Orff Instrument Repair (more)

Courses and Classes for Teachers (more)

Mallets (more)

Product Spotlights (more)

Orff Instruments (more)