Replacing Studio 49 Rubber Pins
By: Margaret Swain - 11/4/2021

Studio 49 rubber pins are used on Series 2000 and Series 1600 xylophones and metallophones. They can be purchased in packages AX-03, AM-03, and BX-03 where they are paired with appropriate size nails for the opposite side of specifc instruments. However, in almost every case, it is only the rubber pins that need to be replaced, and not the metal nails. For this reason we have created part BX-04 which is a package 10 Studio 49 rubber pins. The same rubber pins fit SX, SM, AX, AM, BX, and BM. The nails are NOT the same for all instruments, but all Studio 49 rubber pins are identical. These pins do not fit Sonor instruments or other brands. Find instructions for Sonor pin replacement HERE. What you will need: This pin replacement technique uses a General Tools Pin Vise, a #2 Drill Bit, a single edge razor blade (with or without holder), some wood glue and a vacuum with a hose attachment. If you are working on a soprano or alto instrument, you will want to immobilize the resonator box by clamping it to your workbench, or having an assistant to hold it steady while you are working. Invest in a set of bar clamps and you will never regret it. The use of a hand tool rather than a power drill is designed to give you more control, and lessen the risk of degrading the resonator box by accidentally gouging deeply into the wood. This technique also simply works better in my experience. A 7/32" or 5.5 mm drill bit is the best match for the #2. Step 1. Start all repairs by wearing eye protection. Inexpensive safety glasses can be purchased at any hardware store. First identify which rubber pins need replacement. Some will be obvious, as the tops have broken off. Other replacement candidates can be found by gently bending the pins and looking for major cracks. Minor cracks can be left alone. They are unlikely to break in the near future. Major cracks may require more immediate attention. In the photos below, this pin from a 20-year-old instrument has a major crack at its base and is ready to be replaced. Cut the pin off flush with the resonator box. Use a precision knife, single edge razor blade or a blade with holder. Keep your fingers away from the path of the blade!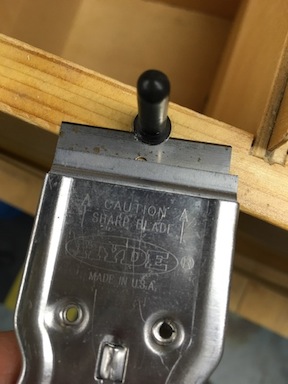 Step 2. Next take your Pin Vise with the #2 drill bit installed. Center it carefully on the base of the rubber pin. Press down to test if the drill bit is really centered. If you are hitting the wood, remove and re-center the tool. Once the drill bit is centered, press down again, and start to turn the pin vise clockwise as seen from above. The drill bit will enter the hole and start cutting away the rubber material. Work slowly and carefully, so as to avoid cutting away the wooden perimeter of the hole.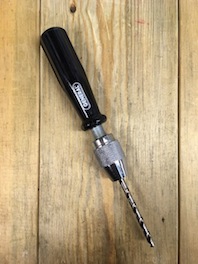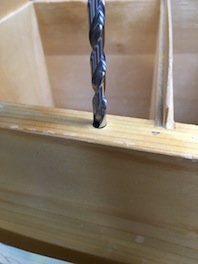 Step 3. As the drill bit descends into the hole, rubber will be cut and extruded little by little. It is wise to stop about half-way down and withdraw the drill bit, while you CONTINUE to turn in a CLOCKWISE direction, this time pulling up while turning. Do NOT reverse the drill when pulling it out. If you reverse the direction of turning, you will be forcing rubber into the hole, instead of removing it. In many instances, the rubber pin will come out cleanly, attached to the end of the drill.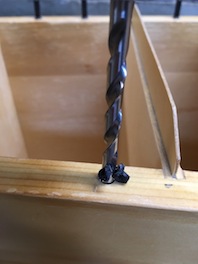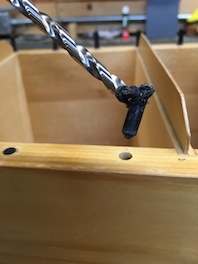 Step 4. In other cases the rubber pin will separate from the drill, but you can sometimes pull it out by grabbing it with pliers or with your hand. If additional hole clearing is needed, simply vacuum the hole to remove loose debris and insert the drill bit again, turning always in a clockwise direction as seen from above. Eventually you will remove all of the old pin and will be ready to install the new one. Vacuum as needed.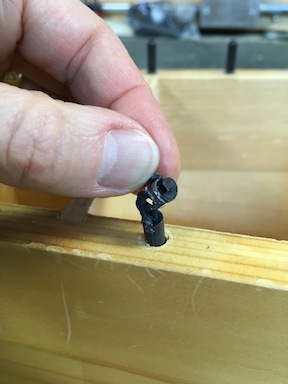 Step 5. Test the new rubber pins in each hole you have drilled out. Make sure they go all the way in, up to the flange. If the fit is comfortable and not too loose, then I recommend putting a ring of wood glue around the top of the hole. This will do a good job of holding the pin in place, but also make it easy to replace the pin in the future. If you or someone else has accidentally enlarged the hole, so the pin is quite loose, you may need to use wood glue or wood putty in the hole to fill out the extra space. In either case, wait until the glue is entirely dry before re-installing the tubing that supports the tone bars. Now you are done and can enjoy using your instruments again!
Additional Thoughts -- Sometimes teachers ask why we don't simply replace the Studio 49 or Sonor rubber pins with metal nails. There are at least 2 good reasons. Pounding a metal nail through a rubber pin is very likely to crack the resonator box, either during installation of the nail, or later when a student removes a bar at an angle, bending the nail backwards. I've seen this sort of damage many times, on instruments that were given a home repair. Here are 2 examples. The other reason to stick with rubber pins, is that while they are susceptible to breaking after many years of use, in the long term they save time. Rubber pins are flexible, and so you do not have to deal with multiple bent nails coming from bars being removed improperly by the hundreds of students that use them every year.
© 2021

Back to Category List
Margaret Swain

I enjoy working to connect teachers to quality books and instruments for music and dance education. I hope you find my blog useful and interesting.
Orff Instrument Repair and Assembly (more)

Courses and Classes for Teachers (more)

Mallets (more)

Product Spotlights (more)

Orff Instruments (more)