Click Image to View Larger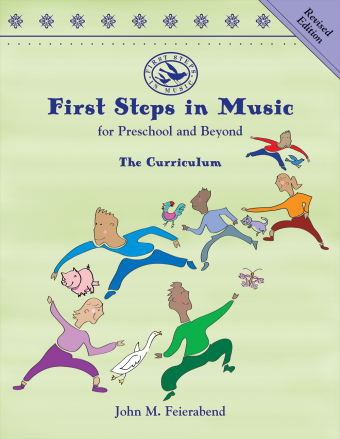 First Steps in Music for Preschool and Beyond, revised edition
John Feierabend

Item #:
G-5880 revised


This music curriculum is designed as a 3-year program which may be started with children anywhere between the ages of 3 and 6. The Teacher's Curriculum Book features:
Echo Songs, Call and Response Songs, SongTales, Action Songs, Circle Games, Beat Motion Activities, and more.
Repertoire based only on folk or traditional songs and rhymes, because of their natural melodic expressiveness and language flow, and for their texts filled with wonder.
Complete lesson plans for a three-year curriculum.
Full coordination with highquality recordings that contain all the rhymes and music from the book - perfect for parents to play at home or in the car.
Suggestions on setting up a class, preparing parents, record keeping, expanding your music program, and planning ahead.
A classical music component, perfect for movement and exploration.
Over the past year, a committee formed by the Feierabend Association for Music Education (FAME) developed a set of standards for evaluating repertoire associated with the curriculum. With their guidance, we have removed several songs deemed to be harmful, derogatory, or disrespectful in regard to their histories or context. We have also added a number of new high-quality songs and rhymes from a variety of world cultures.This revised edition of the First Steps in Music for Preschool and Beyond curriculum guide reflects these changes.The Basic Package contains the teacher's curriculum book and four CDs.The Basic+ Package contains the teacher's curriculum book, four CDs, and eight song books.The Enhanced Package contains the teacher's curriculum book, four CDs, eight song books, four sets of flashcards, Music for Creative Movement, and the Move It! DVDs volumes 1 and 2.The Ultimate Package contains the teacher's curriculum book, four CDs, eight song books, four sets of flashcards, Music for Creative Movement, the Move It! DVDs volumes 1 and 2, all sixteen Feierabend folksong picture books, The Best of Lomax the Hound DVD, Lomax, the Hound of Music: Favorite Songs CD, First Steps in Music Vocal Development Kit, First Steps in Music In Action DVD, and First Steps in Music: The Lectures DVD set.Companion CDs include:
There's a Hole in the Bucket
Old Joe Clark
Had a Little Rooster
First Steps in Classical Music: Keeping the BeatCompanion Books include:
The Book of Finger Plays and Action Songs
The Book of Songs and Rhymes with Beat Motions
The Book of Children's Song Tales
The Book of Beginning Circle Games
The Book of Pitch Exploration
The Book of Movement Exploration
The Book of Call and Response
The Book of Echo SongsCompanion Flashcards include:
Down by the Bay
Oh, in the Woods
Pitch Exploration Pathways
Pitch Exploration Stories